7thL Market
7th & L Sts. SE
NE corner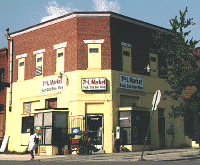 Catty-corner from the Arthur Capper Senior Center, in a neighborhood dominated by public housing and military installations, stands a classic corner store. The corner entrance is flanked by two bays whose display function has yielded to security screening and "No Loitering" signs. The second-story windows have been reduced to slits by boards painted in matching yellow.
SHULMAN MART
1st & Q Sts. SW
NE corner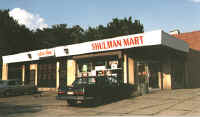 With its parking lot, Shulman's is a city rarity, a hybrid between the roadside kwik stop and the corner store. The overhang, creating a corner over the entrance, cants outward in a suggestion of speed, but the double door beneath it faces the sidewalk, not the lot.
Antiques on the Hill
7th St. & North Carolina Ave. SE
SW corner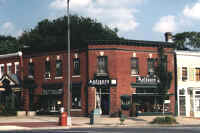 Thanks to the spoke pattern of avenues Pierre L'Enfant laid out for the city 200 years ago, many of Washington's corners are not square. The shape of this shop matches the oblique angle of the intersection. Quoined brickwork accents the door, keystones the windows of this c1900 building, formerly a Rexall drugstore. The interior still boasts a pressed tin ceiling.