MARKET
6th & K Sts. NE
NW corner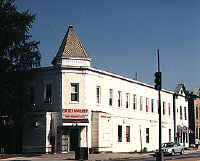 Here entrance is everything, all ornament on this long, low building reserved for the slim wall jutting out toward the corner. The roof peak, the quoins, the iridescent sign, and of course, the always-open door join the chorus, "Come on in!"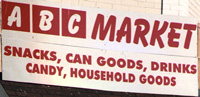 GONZAGA HIGH
North Capitol & K Sts. NW
SW corner

Not every corner building is a store. In late 1999, Arrupe Hall was under renovation.
S
A
L
E
6th & H Sts. NE
SW corner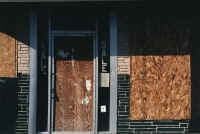 Increasing reliance on cars has led to the decline of neighborhood businesses with a pedestrian clientele. Like many old corner stores, this one was for sale in 1999. The H Street corridor, yet to recover from the 1968 riots, is the focus of renewal efforts by the H St. Community Development Corporation and other agencies. These efforts have resulted in some renovation and some demolition.