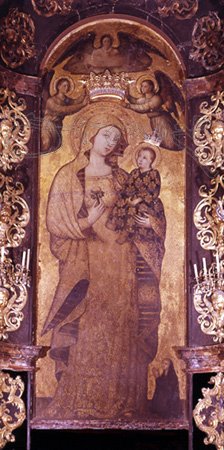 Nuestra Señora de la Antigua, Nuevo Colón, Boyacá, Colombia
According to local tradition, Spanish conquistador Gonzalo Suárez Rendón gave the painting of Our Lady of La Antigua as a baptismal gift to the native ruler Maizaque around 1540. It is a faithful copy of the image of the same name in Seville Cathedral. (For more on this devotion and its propagation in the Americas, see August 5). In gold robes against a gold background, the Virgin stands holding the Child with her left hand and a white rose with her right. Artistic analysis suggests that the painting on display in Nuevo Colón's Catholic church may be a modern copy of the colonial work (Acosta Luna 2013).
The Virgin's fiesta in Nuevo Colón, City of Apples, serves as a showcase for the region's fruit production, attracting participants from a wide area with three days of concerts, fireworks, and bullfights. On the main day, Sunday, there are masses and a street procession with the Virgin's image, as well as devotions to the town's other patron saints, Francis Xavier and Martin de Porres.
Sources:
| | |
| --- | --- |
| | "Nuestra devoción," Nuevo Colón, nuevocolonboy.blogspot.com/ (picture) |
| | Olga Isabel Acosta Luna, Las "Milagrosas Imágenes" Marianas y la Devoción Barroca en el Nuevo Reino de Granada, 2011, www.upo.es/depa/webdhuma/areas/arte/4cb/pdf/Olga Isabel.pdf |
| | Olga Isabel Acosta Luna, "A Su Imagen y Semejanza," Quiroga nº 3, enero-junio 2013, 12-24 |
| | "Se prenden las luces festivas," eltiempo.com, Jan. 19, 1996, www.eltiempo.com/archivo/documento-2013/MAM-368199 |
Also commemorated this date:
| | |
| --- | --- |
| | Virgen de Belén, Oaxaca, Oaxaca, Mexico, Templo de los Siete Príncipes (Virgin of Bethlehem) |