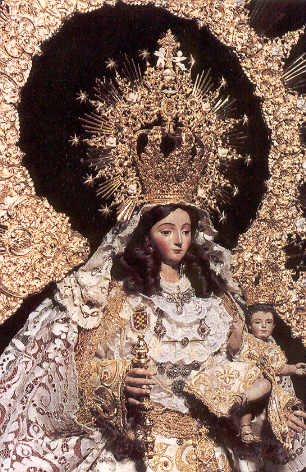 Picture of Our Lady of Montemayor from "MOGUER - Huelva,"
Pueblos de España, www.pueblos-espana.org.)
In 1714, Fray Felipe de Santiago wrote that exactly 1000 years earlier, Moguer's priest took the Virgin's statue from the town church to his estate for safekeeping from the Muslims, hiding it in a holm oak tree on a precipice. On October 4, 1470, another man of Moguer, Alfonso Núñez, went off alone to that mountain to pray, and at the summit discovered, in a green and fragrant holm oak, a 27" cedar statue of Mary, with the child coming out of her body and leaning towards her heart. Once informed, church and town officials moved the image to the parish church in Moguer three times, and three times it returned miraculously to the place it was found. And so, there on Montemayor they built her chapel, which Alfonso Núñez tended until his death.
The old statue was destroyed during the Spanish Civil War. The great Andalusian religious sculptor Sebastián Santos Rojas carved a new one in 1937, a candelero image with finely worked head and hands that attach to a dressed support.
Our Lady of Montemayor is the Patron and Perpetual Mayor of Moguer city. Her Brotherhood was approved Oct. 20, 1956 and her statue crowned June 15, 1991. At the Romería on the second Sunday of May, a crowd of thousands takes the statue from the parish church of Our Lady of the Pomegranate in town to its mountain chapel. On the last Sunday of August, the statue returns to Moguer. A novena beginning August 30 culminates in Our Lady's feast day September 8. Major anniversaries of the October 4 finding and June 15 crowning are celebrated also.
Felipe de Santiago, Libro en el que se trata de la antigüedad del convento de Ntra. Sra. de la Rábida y de las maravillas y prodigios de la Virgen de los Milagros. Año 1714, fols. 90v°-91r'. A,S.B.S., códice 30. Quoted in Juan Miguel Gonzalez Gómez, "Advocaciones Marianas de los Marineros Onubenses," Universidad International de Andalucía, dspace.unia.es/bitstream/10334/622/1/19JIX.pdf
Also celebrated this date:
| | |
| --- | --- |
| | Consecration of the Church of the Virgin Lady known as El-Mahammah, Coptic Orthodox Church |
| | Notre-Dame de Roc-Amadour, Quebec City, Quebec, Canada. Statue blessed, 1929. |
| | Immaculée Conception, Maurines, Cantal, Auvergne, France. Hilltop statue erected, 1856. |
| | Nuestra Señora de las Angustias, Guatemala City, Guatemala. Yurrita Chapel inaugurated, 1941. |
| | Madonna del Castello, Rivergaro, Piacenza, Emilia-Romagna, Italy. Statue crowned, 1902. |
| | Madonna della Concezione, Castel Bolognese, Ravenna, Emilia-Romagna, Italy. Procession with statue when plague threatened, June 15, 1630; town spared, commemorated annually at Pentecost. Church badly damaged in WWII, reopened June 15, 1965. |