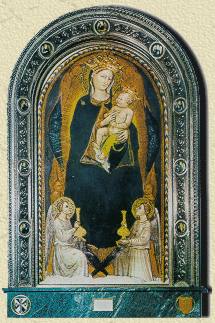 June 23
Madonna del Sasso, Bibbiena, Arezzo, Tuscany, Italy
On June 23, 1347, Catherine, 7, saw a beautiful lady in white who gave some her some pods, found that evening to be full of blood: an omen of the bubonic plague of the following year, from which Bibbiena and environs were largely spared. The rock formation where Catherine saw the Madonna became the core of the Sanctuary of the Madonna of the Rock. Around 1435, Bicci di Lorenzo frescoed the main altarpiece against its top (Il Santuario di Santa Maria del Sasso, santuario.santamariadelsasso.it).
Also celebrated this date:
L'Immacolata, Torre del Greco, Napoli, Campania, Italy

. Statue crowned, 1954. Feast Dec. 8.

Maagd der Armen, Hoensbroek, Heerlen, Limburg, Netherlands (Virgin of the Poor). Church consecrated, 1951. Pilgrimage August 15.
Our Lady of Perpetual Help, Parańaque City, Metro Manila, Philippines, Baclaran district. First Baclaran novena conducted, 1948. Feast June 27.
Mother of God "It Is Truly Meet," Vršac, Vojvodina, Serbia, Mesic Monastery. Prayer vigil.