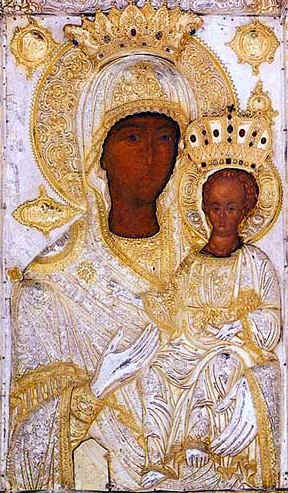 Sometimes called the Directress, or "she who points the way," this image depicts the Mother of God gesturing toward the Child on her lap. In 1730, the treasured icon disappeared from the Vatopedi monastery on Mt. Athos, where monks assumed it had been stolen, since their doors were locked. When the image turned up at the Xenophon Monastery, three hours away, monks from Vatopedi went there to get it and restored it to its place; but after it turned up at Xenophon twice more, all the brethren decided it was the Holy Virgin's will to remain there. The monks of Xenophon celebrate the feast of the All-Holy Hodegetria on the first Sunday in October. Russian and Serbian Orthodox churches honor this icon on June 20 in the old calendar, July 3 in the new. (Picture from "Mount Athos," www.macedonian-heritage.gr.)
Also celebrated this date:
Onze Lieve Vrouw van Wittentak, Ronse, East Flanders, Flanders, Belgium (Our Lady of the White Branch). Chapel consecrated, 1892. Novena ends Mon. after 1st Sun.
Notre Dame des Naufragés, Plogoff, Quimper, Brittany, France (Our Lady of the Shipwrecked). Monumental statue dedicated, 1904.
Notre-Dame-de-la-Carole, Paris, France. Statue was stabbed and bled, 1413.
Schmerzhaften Mutter, Telgte, Warendorf, North Rhine-Westphalia, Germany (Sorrowful Mother). Pietą statue crowned, 1904, on chapel's 250th anniversary.
Mary Mother of Mercy, Nagapuzha Post, Kalloorkad, Ernamkulam District, Kerala, India

. Church feast day and that of St. Thomas Apostle, patron of India.

Santa Maria d'Orto San Michele, Florence, Italy. Miracles began, 1292.
Strażniczki Wiary (Defender of the Faith), Bardo, Lower Silesia, Poland

. Statue crowned, 1966.

Matka Boża Ucieczka Grzeszników, Wieleń Zaobrzański, Przemęt, Wolsztyn, Greater Poland, Poland (Mother of God Refuge of Sinners). Statue crowned, 2005.
Kosino-Modena Mother of God, Moscow, Russia (June 20 Julian)
St. Mary, Cincinnati, Ohio, USA. Old St. Mary's Church dedicated, 1842.