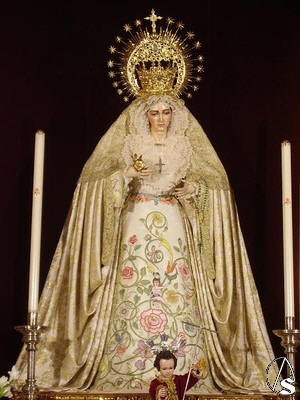 Since the 1400s, Seville has revered the Virgin of the Dawn and the Virgin of Love in the Church of Santa Marina. Both got new statues in 1978. A carving by

Antonio J. Dubé de Luque

was blessed as the Virgen de la Aurora on October 29, 1978, replacing an image of 1970 which became the new Virgen del Amor. Seville's Virgin of the Dawn is the Sorrowful Mother transformed by the joy of Easter morning. Her Hermandad (

Illustrious and Lasallian Sacramental Brotherhood of the Holy Cross and Confraternity of Nazarenes of the Sacred Resurrection of Our Lord Jesus Christ, Our Lady of the Dawn and St. John Baptist de La Salle

) carries her statue in procession on Easter, bringing the city's spectacular Holy Week to a triumphant conclusion.

Picture by Eduardo Fdez. López from "Noticias Cofrades en Arte Sacro," Semana Santa en Sevilla, www.artesacro.org/Noticia.asp?idreg=27294, posted July 24, 2007.

Also commemorated this date:
Nuestra Señora del Carmen, Olivar, Cachapoal, O'Higgins, Chile
Notre-Dame de Toutes-Aides, Dourdain, Ille-et-Vilaine, Brittany, France (Our Lady of All Help). Chapel blessed, 1743. Annual celebratory mass August 14.
Madonna Addolorata, Racale, Lecce, Puglia, Italy (Our Lady of Sorrows). Church elevated to parish, 1961. Festa last Sunday in October.
Nuestra Señora de Moya, Lagos de Moreno, Jalisco, Mexico. Image arrived, 1565. Fiestas December 8 and June 8.
María Santísima de las Angustias Coronada, Seville, Andalucia, Spain (Most Holy Crowned Mary of Anguish). Statue crowned, 1988.
Saint Mary's of the Barrens, Perryville, Missouri, USA

. Church consecrated, 1837. Now the Shrine of the Miraculous Medal, St. Vincent de Paul parish.